I have officially entered into a few swaps lately—the Pink Stitches fall swap and the Block Swap Adventure—and then several informal swaps with blog and Etsy friends.
Just recently, the proprietress of Needle Little Balance swapped some fabric with me.  I sent her some mostly blue floral fabrics in exchange for some fabric she picked up on a holiday in France.   She also sent some goodies immediately snatched up by my two older daughters, some stickers and the cutest little sheep keychains that Esther promptly told me she "loved."
Two of my closest friends were over the house the other day, oohing and aahing over the fabric.  It is very pretty, and I love the polka dots!
And, I received a package from Australia from Kat of Mumma's Time to Create.  It had a great assortment of some of the Aussie DS Quilts prints and other pretties:
I was on Flickr a few weeks ago looking for fabric that coordinates with a line of fabric my daughter Bea adores, Hanky Panky by Ro Gregg.  I happen to have some of it in my stash, but I was looking for any other pieces and lo and behold, I found a person with a blog and contacted her, hoping to purchase anything she had leftover, even scraps, just to have a few other prints to choose from.  She graciously sent me these fabrics from Canada for free!  Thank you, Jocey!
Finally, sometimes I sell leftover fabric on my Etsy shop.  A nice lady from WildOliveKids contacted me looking to buy some yardage of a DS Quilts fat quarter I had listed.  I ran out to my Joanns to get some yardage for her, and asked her to swap a dress from her shop for Bea for this Christmas…so this should be on its way to Bea's closet next week: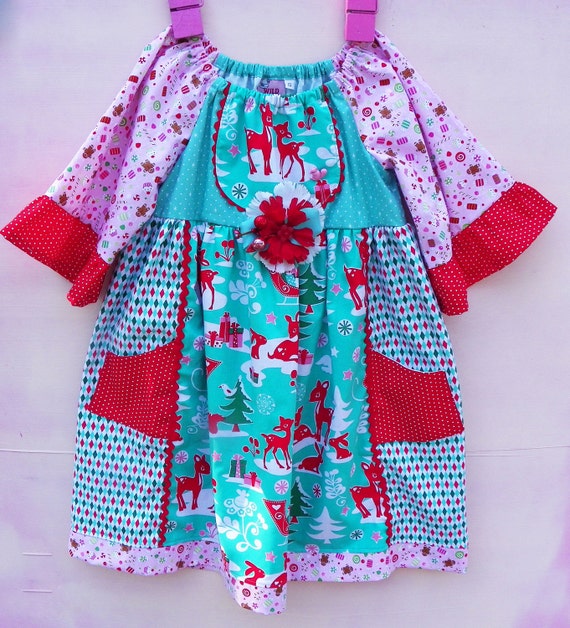 I'd love to learn to sew garments, but my personal feeling is "too many quilts, too little time," so maybe when I have grandkids…