The giveaway is now closed.  The winner was #144 Scrapatches.  Thank you everyone who commented!!!!
Thanks for visiting today!  There are lots of wonderful stops on today's schedule for the April Showers Blog Hop and it is raining mug rugs!  I have a parade of elephants to share.
I made four mug rugs—one for each daughter plus me.  The fabrics are all sorts of scraps I had handy and charms from a low volume swap.  The pattern is from the Patchsmith on Craftsy and is very affordable at only $1.99.  She has lots of patterns to choose from (I may have gotten more than one…).  The backing is a cute cherry print so they can be reversible.
Don't forget to check out all the other great mug rugs on the hop today!
WEDNESDAY, APRIL 10th
Mélanie @ Les passions de Cliodana
Regena @ The Distracted Domestic
Amy @ Domesticity and other Ponderous Things
Denise @ My Whittle Adventures
Much thanks to Erin at Sew At Home Mummy for helping organize and cheer on all the participants, and a big thanks to Madame Samm for all her hard work!!! 
Now for a fun giveaway!  Leave me a comment to be entered to win two mini charm packs of the Boo Crew by Sweetwater from Quilt Taffy.  What would you make?  I'll be using mine to make a tabletopper for Halloween this year.  Do you think that'll be enough time or will I be working on it at midnight on October 30th?!?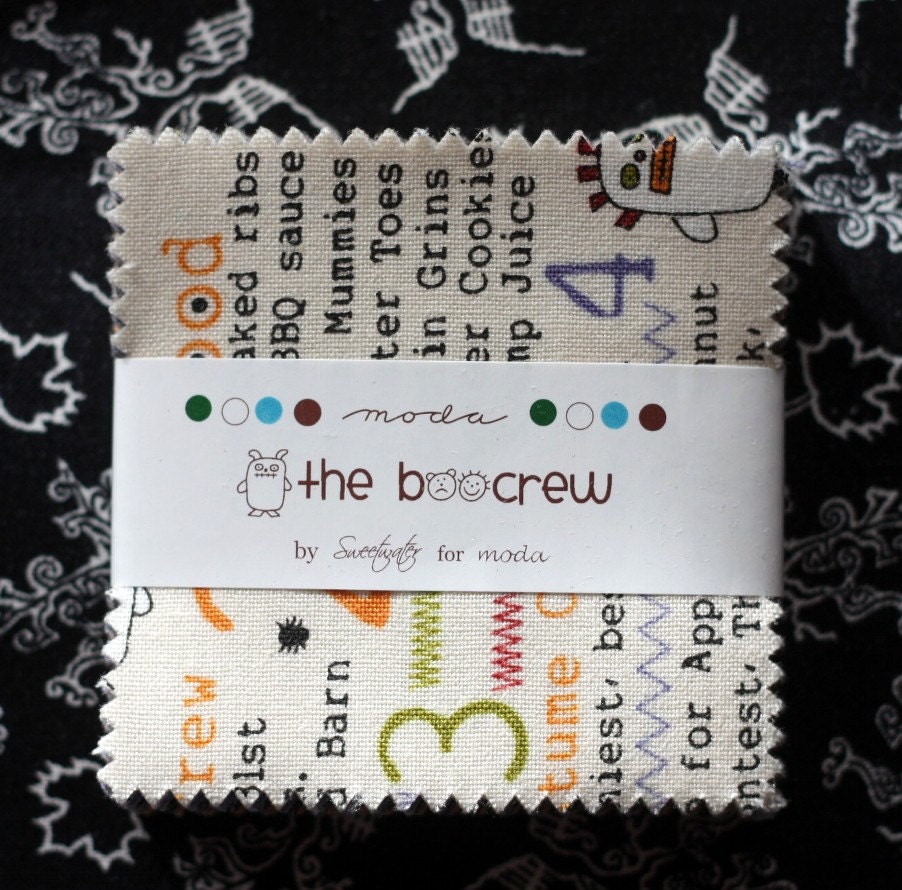 International entries welcome.  Followers can have a second entry—just let me know you follow!  Have a wonderful day!